I woke up at 4 am this morning. Something I usually don't do but I Love being up before everyone else in the house. I get to experience my boys as they walk in with heavy steps, rubbing their little eyes to see what smells so good in the kitchen. That is right up there as one of the best moments for me as their Mama. <3
This morning I made Mini Sausage and Onion Frittatas. You can use any combination of meats, cheeses and vegetables. They are easy to cook up and make smiles as your little ones get finger food for breakfast. <3 and Hugs!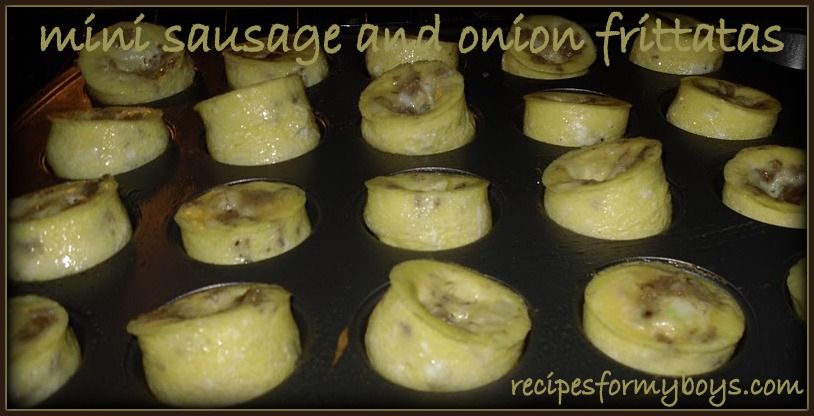 Dancing Frittatas
Mini Sausage and Onion Frittatas
6 eggs, beaten
1/8-1/4 cup minced onion
2-4 sausage patties or links..cooked and crumbled
salt and pepper to taste, depending on how salty and hot your sausage is
Preheat oven to 350 degrees
Spray mini muffin pan(s)
Beat eggs.
Add onion, sausage and salt and pepper if desired. Mix.
Spoon into mini muffin pan(s). Mine made 22.
They will deflate once out of the oven so if you are going to take a picture
open the oven and do so now. ;D
Bake 5 minutes, turn pan. Bake an additional 3-8 minutes.
As always..my oven cooks different than yours. Adjust time as needed.
Done when set.
Pin It
2 Bite Frittatas




Mini Sausage and Onion Frittatas


Shared on