I was going to make Chicken Cordon Bleu for my Husband's birthday on Tuesday except, that word always comes into play around here, the Twins were sick and we spent most of the day on the phone, at the Dr's office and pharmacy. Luckily I bought a ham in the morning, came home and put it in the crock pot. Which turned out Delicious, by the way.
We still wanted Chicken Cordon Bleu but I didn't feel like making it. I decided to make a easier version of it instead. I think you will also like
Chicken Cordon Bleu Soup
. UMMM!
Note...In picture below I added the chicken at the beginning. For bigger pieces, add at the end as the recipes states.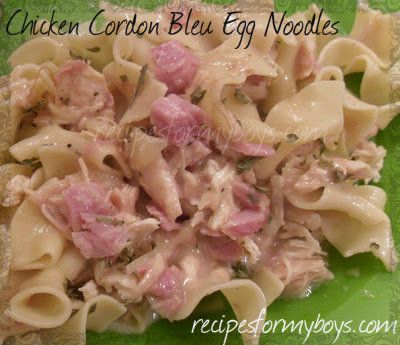 1 1/2 to 2 cups chicken, cooked and cut up
1/2 to 1 cup smoked ham, diced
8 cups chicken broth, homemade or bought
2 tablespoon minced garlic
2 teaspoon italian seasoning, I used McCormick Italian Blend Grinders
salt to taste, do taste before adding...the ham and cheese may be all the salt needed
4 tablespoons corn starch with enough water to blend
4-8 slices swiss cheese
6 cups chicken broth, homemade or bought
parsley or basil to garnish
Bring 6 cups chicken broth to a boil.
Add egg noodles and cook as directed.
Take cream out of refrigerator.
While egg noodles are cooking.
Put chicken broth, garlic, italian seasoning and ham in a pot. Bring to a boil.
Add swiss cheese and stir to melt.
Taste and add salt and pepper if desired.
Mix cornstarch with water to make a slurry.
Add to broth. Keep boiling and stirring until the desired thickness.
Add more cornstarch if too thin, water or broth if to thick.
Add heavy cream and keep on stove until heated through.
Serve over Egg Noodles. Sprinkle with parsley or basil.