Woo Hoo!!!! I am so excited! This is the 100th party of Thursday's Treasures! To celebrate .. Joan, Christie and I are having a $60.00 Amazon Gift Card Giveaway! How fun is that?
There have been the most amazing links shared over the last 2 years. Some of my first foodie friends still stop by to visit and share, which I absolutely love! Doesn't it just make your heart smile when an old friend drops by? Yes, I know the feeling well. I adore the many new friends I have met through the years. Each one bringing something special with their visits.
I am honored to have Joan (
Chocolate, Chocolate and More
) and Christie (
Food Done Light
) as my co-hosts. They have brought Thursday's Treasures to a new level. Adding their style and personal touches. Bringing new flavors and enrichment to our weekly link party. Yes….I am truly thankful for everything they do! I started Thursday's Treasures wanting treasured food that brought with it treasured memories. It has grown to include crafts and DIY also, which I dearly love! Thank you to each of you for making Thursday's Treasures truly that…a Treasure! Love and Hugs!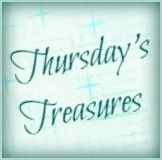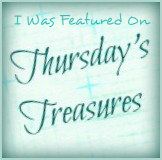 Please take a moment to stop by and see my lovely co-hostesses on their blogs: Joan @
Chocolate, Chocolate and More
and Christie @
Food Done Light
You can find them on Facebook also:
Chocolate, Chocolate and More
and
Food Done Light
Rules, yeah, I know. Link to your original recipe, craft or tip and photo directly, not your blog. Don't forget to link back to my post, or blog, with either a text link or our new button, directly on your post or party page. We are sorry but without a link back, you cannot be featured. Please follow my blog, facebook, pinterest, twitter, e-mail, rss...you get it, they are all on the right side of this page. Whatever is your favorite way to follow to stay up to date. Please do the same with my lovely co-hosts, Joan and Christie. By linking up to this party you are giving permission for us to use your photo, and post, on facebook, Google+ and other social media to promote Thursday's Treasures and you, with proper link credit given. Please make sure all photos, and posts, you link up are your own. Share as many recipes as you like just as long as you haven't shared them here before. The party is open all week. Please visit others and leave them a comment you stopped by.
Open to US and Canada only.
a Rafflecopter giveaway