Here is yet another pumpkin recipe, this time with more ginger to make it Pumpkin Ginger Bread. Not a hearty gingerbread taste, but a hint of the classic gingerbread which was what I wanted. Oh my it was good! My middle son, the oldest twin, decided to help himself the best way he could. I couldn't get angry with him…no matter how the bread looked when I got back to it. Love and Hugs!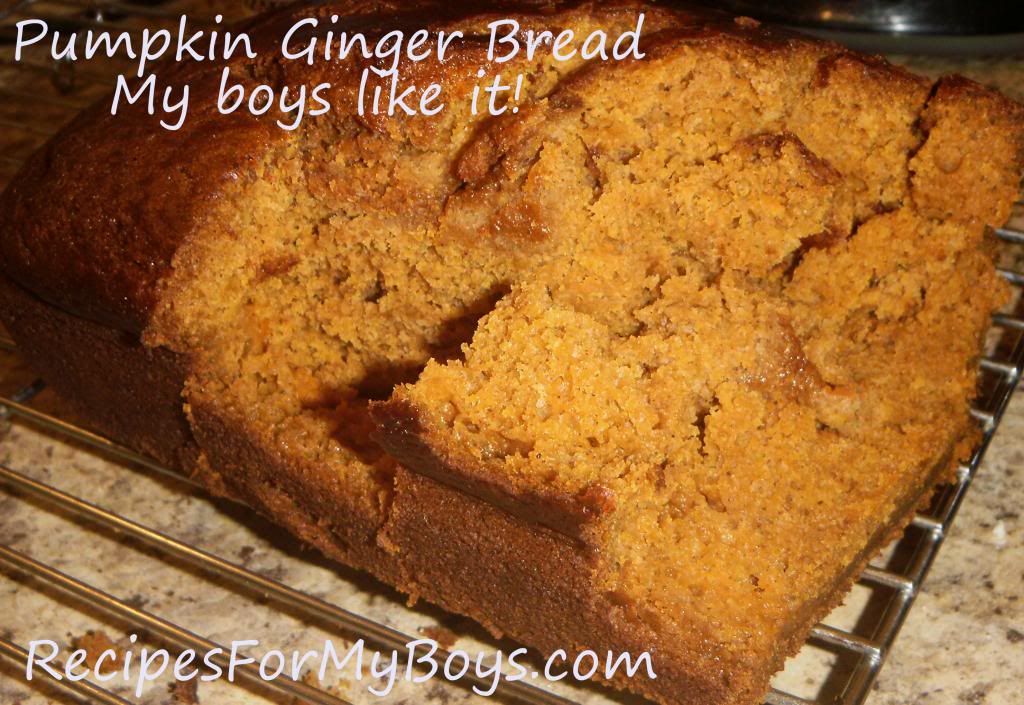 1 3/4 cup King Arthur Unbleached All Flour
1 1/2 teaspoon baking soda
1/2 teaspoon baking powder
1 teaspoon ginger or more to taste
3/4 to 1 teaspoon cinnamon or more to taste
1/4 to 1/2 teaspoon nutmeg or more to taste
2 Tbsp lemon juice, optional
1/2 cup coconut milk or milk
1 cup packed pumpkin puree, not filling
What to do
Preheat oven to 375 degrees F.
Lightly grease 9 x 5 loaf pan
Sift dry ingredients and sit aside.
Whisk together eggs, oil, molasses, sugar, coconut milk.
Add dry ingredients, stirring until moist. Do not over stir.
Fold in pumpkin, you do not need to mix it all in.
Cook in preheated oven for 45-60 minutes. Done when toothpick comes out clean.
Cool in pan 10 minutes, run a knife around edges, flip out and cool on rack or eat warm.