I made dip the other night and thought it would be amazing cooked in those mini sweet peppers you buy by the bagful. I was right! They turned out wonderful! Now I want to get some pepper plants to put in our little garden. If you need me...you'll more than likely find me digging in the garden. ~smile~
Artichoke, Spinach and Cheese Stuffed Peppers
1 lb bag of mini sweet peppers, cut in half, leaving stems on (do not eat the stems) and seeds removed. I saved mine and going to put them in pots to see if they will grow. ~smile~
1 can of baby artichoke hearts, rinsed, patted dry and chopped
1 box (10 oz ? ) frozen spinach, thawed, drained and squeezed dry, chopped
1 cup chopped tomatoes, canned and drained or fresh
8 oz neufchatel cheese, room temperature
1/2 to 3/4 cup parmesan, grated
1/2 mozzarella, grated, optional. I didn't use it.
1 tablespoon minced garlic
1/4 to 1/2 teaspoon dried thyme leaves...I just love this herb
1/4 to 1/2 teaspoon freshly ground lemon pepper
sea salt to taste
olive oil non stick spray or parchment paper
Stir neufchatel cheese to soften. Add parmesan, garlic, thyme, lemon pepper and salt to taste. I always start with the lesser amount and add more if needed. Always make to your taste. ~wink~
Stir chopped tomatoes, spinach and artichoke hearts.
For cooked dip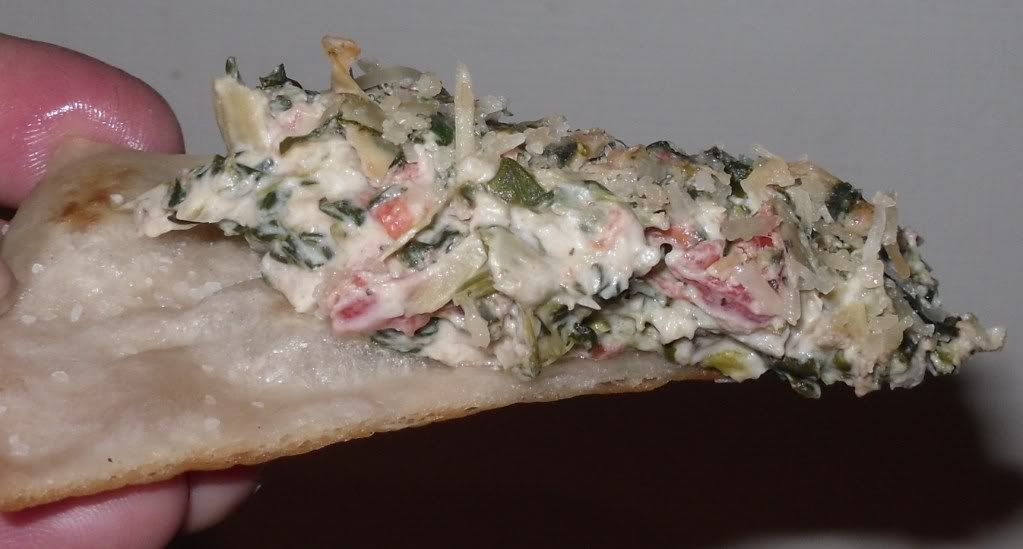 The first night, I cooked this in the oven at 350 degrees until warmed through, as a dip served with homemade tortilla chips.
The next day, I spooned what was left of the dip into the peppers and cooked in a cast iron skillet. You will need a cookie sheet with sides if just making the bagful of stuffed peppers.
For the stuffed peppers
Preheat oven to 350 degrees, spray cookie sheet with olive oil or use parchment paper.
Spoon cheese mixture into pepper halves. Place on cookie sheet, you can have them touching to keep them upright.
Bake for 20-30 minutes. If you want to pick them up and hold them, get them out early. Make certain the filling is heated through. I actually put them under the broiler, with the door opened a crack, on low, for 8-12 minutes. Keeping a close eye on them at all times. Do not leave alone or they will burn!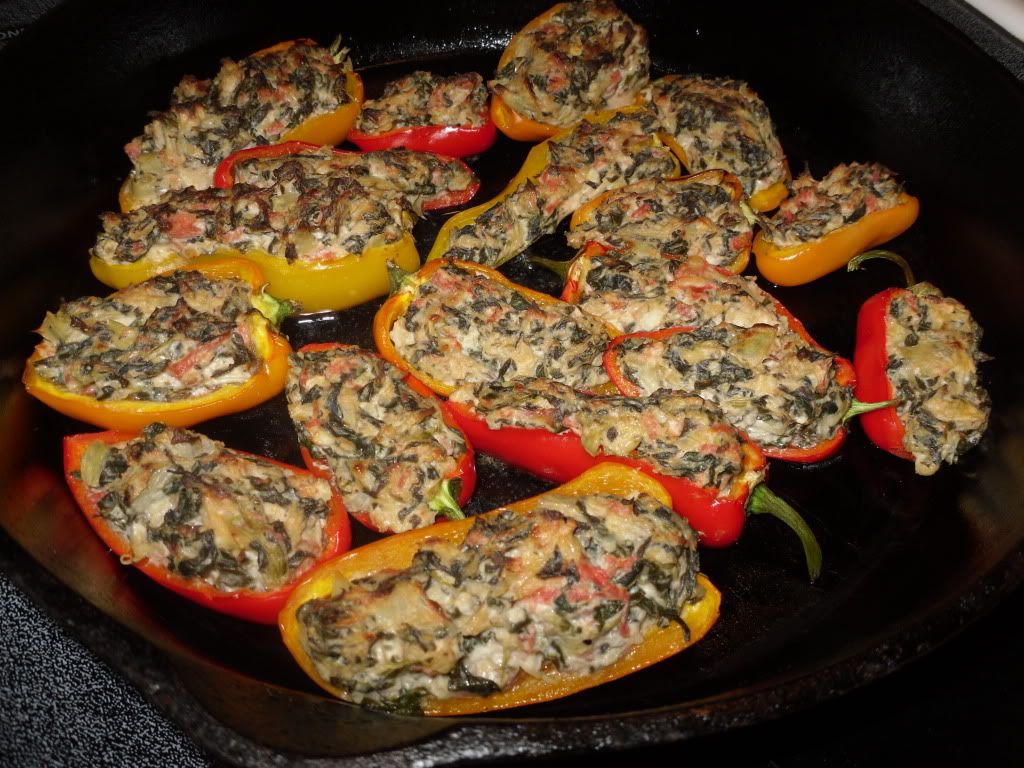 Enjoy! <3 and hugs!