MMMM...do you smell that? It is the smell of something so yummy it will make you want to eat it all for yourself. Yep, it's gooood! My boys said they wanted pasta, yes, again this week. I think they could live off of it and sometimes I think they do! Pasta, pasta, pasta, oh how many ways can I make thee? ~smile~ Okay, I'm going to get right to the recipe, if I don't, I won't be able to share it anytime soon. I'll be eating it all and then be too full! Enjoy! Love and hugs!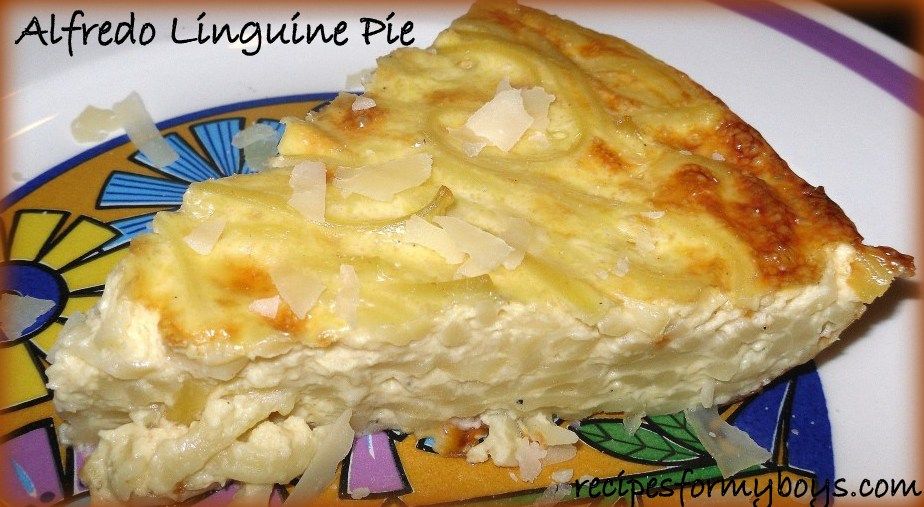 8 oz linguine, cooked according to directions
2 cups alfredo sauce,
homemade
, or 16 oz jar, I used roasted garlic parmesan tonight
3 eggs
2 cups mozzarella, shredded
parmesan, shaved to top pie
Cook linguine according to directions
While it's cooking...
Spray 9 or 10 inch pie pan. Mine was glass and 9.5 inches
Preheat oven to 350 degrees F
Beat eggs in large bowl
Stir in alfredo sauce and cheese
Drain linguine when cooked and add to bowl with sauce, stir well
Pour into greased pie pan
Cook for 15 minutes
Turn pan around