It's storming here! Not the best of time with scared little dogs and boys! Thank goodness I had supper ready before the storm came.
Last week we had the most links ever! I cannot thank you all enough for sharing your treasured recipes along with memories. Each recipe has a story behind it. There is always something that you think about when you prepare them. Don't you agree? The old recipes remind me of my parents, grandparents, rotten sisters, a weekend at the lake, vacations... Newer ones are associated with my boys, what we were doing when I first made this recipe and how much they like this one and oh boy, that one didn't go over so well! ~smile~
Please visit my lovely co-hostess, Joan of Chocolate, Chocolate and More on her
blog
and
facebook page
. She is so sweet and the best cook! Say "hi" and give her love and hugs from me. I'm trying to comment on as many links as possible, which hasn't been very possible lately. I haven't been able to pin either. Hopefully that will change once the boys start back to school and I get into a routine again. Thank you again...for all the love shared behind your recipes. Love and Hugs, Sweet Ones!
Amee's Savory Dish Gluten Free Zucchini Bread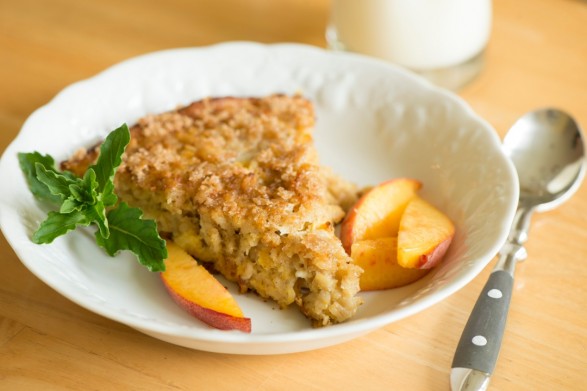 The Fountain Avenue Kitchen Peach Swirl Baked Oatmeal
Please let me know if you would like to co-host Thursday's Treasures one week. We'd love to have you join us! Love and Hugs!
Link to your recipe directly, not your blog.
Link back to this post. We are sorry but recipes without a link back cannot be featured.
Please follow my blog, facebook, pinterest, twitter, e-mail, rss...you get it. Whatever is your favorite way to follow to stay up to date.
Please do the same with my lovely co-hostess, Joan.
Share as many recipes as you like. The party is open all week.
Please visit others...they appreciate it as much as we do.
Leave a comment. I love to know you were here.
Y'all have a beautiful week. Be good to yourselves and each other.

Previous week's parties!
Week's 1-29 can be found
Here

Now......Let's Party!