This is the last Thursday's Treasures Joan,
Chocolate, Chocolate and More
, will be hosting. Bittersweet feelings flow as Joan continues to move forward and grow her fantastic blog. There is no limit, how far she will go. I am honored to have had her with us. Thank you, Joan, for being a lovely and gracious host. It has been such a pleasure to share each week with you. You will be greatly missed. Love and hugs, sweet friend!
Let's never forget the precious lives lost in the horrific attack on the United States of America! I'm pretty certain everyone's life was touched and changed. Praying for the safety of our land...the Home of the Free! Praying for our Brave Soldiers and First Responders that continually put their lives in danger for our Freedom and Safety! Praying our children will never see another act of terrorism upon the United States of America! God Bless the U.S.A.
Christie, Food Done Light, and I welcome Joan's followers to share on our blogs as we continue Thursday's Treasures. If you are a Crafty and/or DIY type of person and would like to co-host with us each week, please leave a message and we will be in touch with you.
On to this week's features. Here are last week's links to Thursday's Treasures.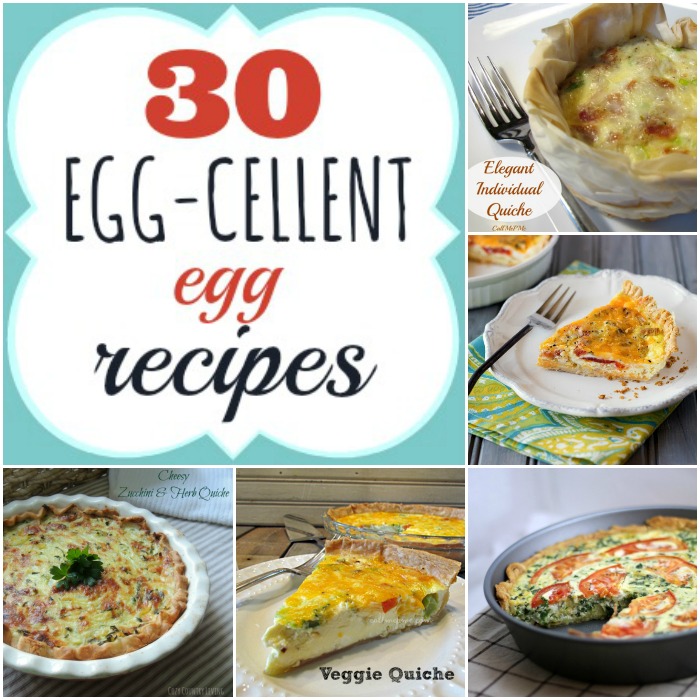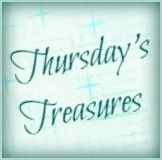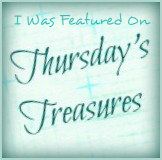 Please take a moment to stop by and see my lovely co-hosts on their blogs: Joan @
Chocolate, Chocolate and More
and Christie @
Food Done Light
You can find them on Facebook also:
Chocolate, Chocolate and More
and
Food Done Light
Rules, yeah, I know. Link to your original recipe, craft or tip and photo directly, not your blog. Don't forget to link back to my post, or blog, with either a text link or our new button, directly on your post or party page. We are sorry but without a link back, you cannot be featured. Please follow my blog, facebook, pinterest, twitter, e-mail, rss...you get it, they are all on the right side of this page. Whatever is your favorite way to follow to stay up to date. Please do the same with my lovely co-hosts, Joan and Christie. By linking up to this party you are giving permission for us to use your photo, and post, on facebook, Google+ and other social media to promote Thursday's Treasures and you, with proper link credit given. Please make sure all photos, and posts, you link up are your own. Share as many recipes as you like just as long as you haven't shared them here before. The party is open all week. Please visit others and leave them a comment you stopped by.